Anaesthesia is having its evolution to become Perioperative Medicine, that brings better preoperative preparation to improving immediate post operative care for patients receiving surgeries under anaesthesia.
Perioperative nurses, partner of anaesthetists in perioperative arena, needs to understand their change and be prepared.
The aim of the symposium is to introduce the changes and inspire nurses to understand what one could prepare for the change. The nursing workshop on cardiopulmonary exercise testing would be one of them.
Workshop 3 – Crisis Refresher Workshop for Specialists
Time: 10:30 – 12:30
Facilitators: Dr. Albert CHAN, Dr. Phoon-Ping CHEN, Dr. Yu-Fat CHOW, Dr. Vivian LAU, Dr. Charlotte LO, Dr. Jaclyn WONG, Dr. Steven YIP (Hong Kong)
Perioperative crises are rare events, but when it occurs, can be very challenging to attending anaesthesiologists and their respective teams. This two hour problem-based learning workshop aims to cover essential perioperative crises that require emergency response – ranging from airway, cardiovascular to respiratory events.
This workshop is targeted at specialist anaesthetists working either in public or private sector who wish to have an update on management of perioperative crises through interactive discussions.
Active CME will be provided.
Workshop 5 – Cardiopulmonary Exercise Testing Workshop
Time for Workshop 5A: 13:00 – 15:00
Time for Workshop 5B: 15:30 – 17:30
Facilitators: Dr. Benny C. P. CHENG, Ms. Po-Kuen CHENG, Dr. Leo T. H. CHIU, Mr. Cheuk-Wai KAM, Dr. Carmen LAM, Dr. Chung-Wai LAU, Ms. Sandy W. C. LEUNG, Ms. Jasmine O. Y. TAM, Dr. Kai-Kit TSIM, Dr. Wing T. K. WONG, Mr. Shui-Kwong YAU, Ms. Pui-Ling YIP (Hong Kong)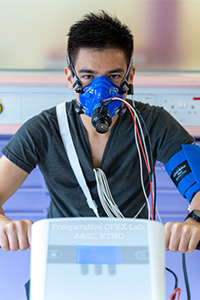 "Is this patient fit for surgery?". Certainly this is one of the most commonly raised questions amongst us, especially when we are facing frail elderly patients scheduled for major surgeries.
The Cardiopulmonary exercise test aims to provide an objective and integrated evaluation of physical fitness. It yields an individualized risk profile in order to guide collaborative decision-making, to characterize functional capacity, and to predict whether the patients will tolerate the physiological stresses provoked by surgeries. The test-guided patient-specific prehabilitation, surgical and anaesthetic practice could ultimately translate to improved patient outcomes.
The first part of our workshop (Workshop 5A) will take the form of a live demo of the state-of-the-art CPET machine and a didactic lecture, so that you can have a basic understanding of the test.
Going into the second part (Workshop 5B) we will split into small groups. Through the form of problem-based and interactive in-depth discussions, we would like to guide you through a wider-range of topics, including the interpretation of the seemingly overwhelming 9-panel plots and practical tips of putting the test into practice.