13 November 2017
Meeting Information to Delegates joining 17-19 November
Meeting Information to Delegates joining 18-19 November
---

18 October 2017
Call for Abstracts
Deadline for abstract submission is now extended to 31 October 2017. Please click here for submission NOW!
Early-Bird Registration
Deadline for Early-Bird Registration is now extended to 31 October 2017. Please click here for registration NOW!
---

8 September 2017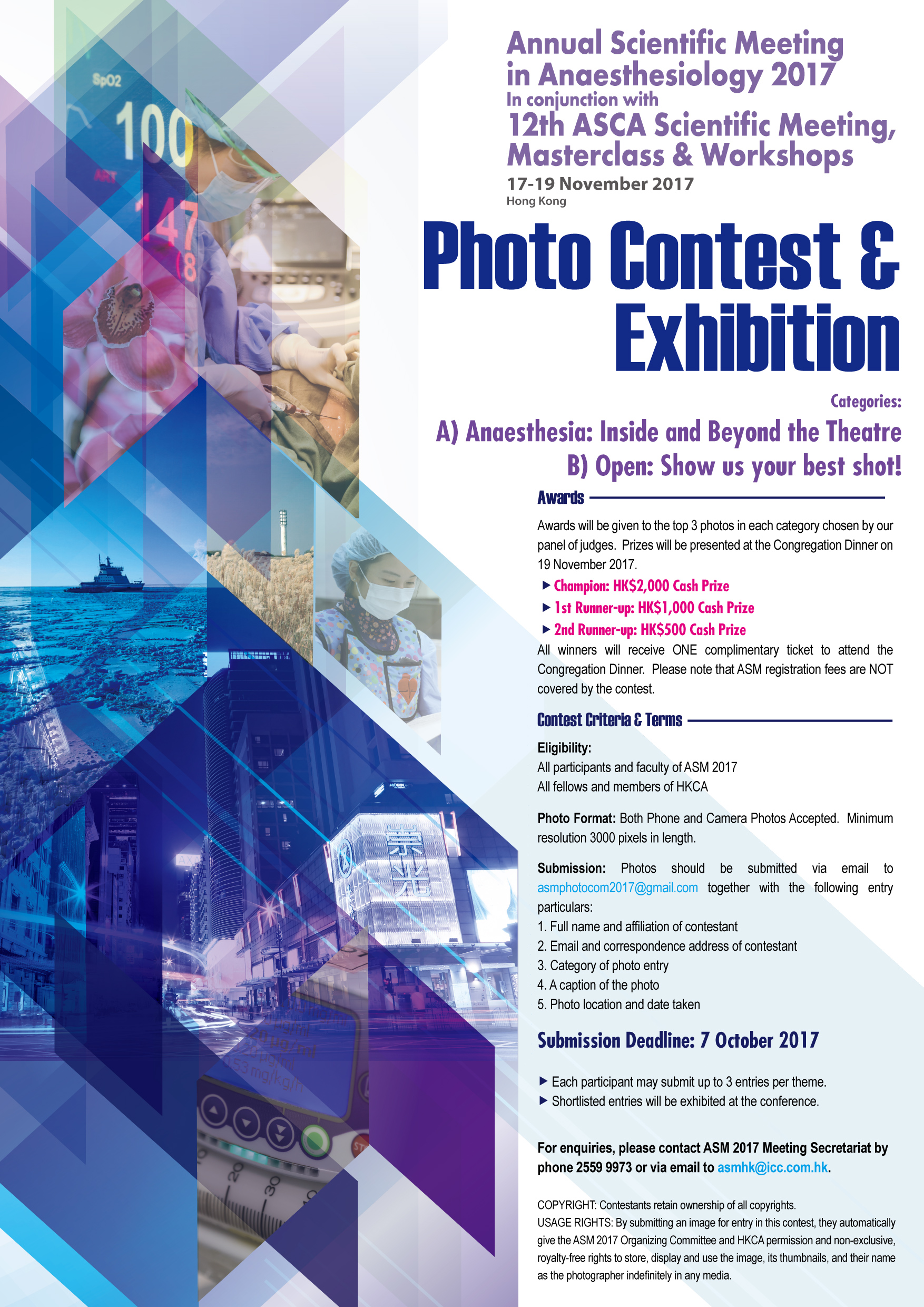 ASM Photo Contest 2017 Judging Panel
Guest Judge
Dr. Amy Pang
Chairperson of Hong Kong Medical Association Photographic Society
Who's Who Top Ten by Photographic Society of America (Large Print Monochrome and Color Session)
For more details, please visit http://amypang.net/bio/
Dr. Steven Wong
Chief of Service, Department of Anaesthesiology and OT Services, Queen Elizabeth Hospital
Vice-President, Hong Kong Federation of Hospital Photographic Societies
Dr. Desmond Lam
Consultant, Department of Anaesthesia, Caritas Medical Centre

---
7 July 2017
Online Registration for the Meeting and Optional Workshops is launched.
Please click here to register online NOW!
Call for Papers
The Scientific Committee cordially invites you to submit abstracts for Free Paper or e-Poster Presentations at the Meeting. Presentation of abstracts may be considered for recognition as a formal project requirement for trainees in anaesthesiology of the Hong Kong College of Anaesthesiologists. A prize will be awarded for the Best Formal Project at the HKCA Congregation on 19 November 2017.
Read more....
ASCA Delegate Rate - SCA Micro Course Packages
Special Offer to ASCA Delegates
To support the ASCA mission of raising awareness in patient safety and promoting good clinical practices, iTeachU is now offering 30% off on these popular clinical ultrasound courses endorsed by the Society of Cardiovascular Anesthesiologists.
How to Receive the ASCA Delegate Rate
Please type in the Reference Code obtained from ASM2017 Meeting Secretariat to receive 30% off the regular prices.
Note: Discount is only offered to the first 100 delegates registered for ASCA 2017 and will be closed after 19th November 2017.
Read more….
---